Last updated: 8 February 2022
How to Hire a Website Designer or Developer – This comprehensive guide covers what you need to know from an Australian legal perspective about hiring website designers and developers. It covers:
How to hire a web designer or developer
How to get the best out of them and avoid disagreements
Practical issues such as ownership of the website code
Common mistakes and traps to avoid
Your website is the face of your business and it is important that you get your web design right. So hiring, briefing and working with the right website designer is critical. At the same time though, there are also important legal issues that may arise in relation to your web design – such as design copyright, ownership of custom code and getting your website built on schedule and within budget.
Legal issues covered in this guide
Click on any of the questions below to jump to that section of this legal guide.
If after reading this guide you still have a question, get in touch as we'd love to keep adding your questions to this comprehensive guide.
Hiring Website Designers and Developers
Should I build the website myself or hire a website designer?
There are some good CMS (Content Management System) platforms that allow you to build your own website, such as Wordpress, Wix, Squarespace or Shopify – but they do not suit everyone. A DIY website builder is a good option if:
You need to save money
Your website idea is very simple
You are happy to use a standard website template, or
You don't have time to find and brief a web designer or developer
However, there is no substitute for the quality and the customisation that you can get from engaging a good web designer or developer and giving them a few weeks/months to build the perfect website for you. Experienced web designers and developers will have built similar websites for other clients, so they will know what works and what doesn't.
What is the difference between a Website Designer, Website Developer and Graphic Designer?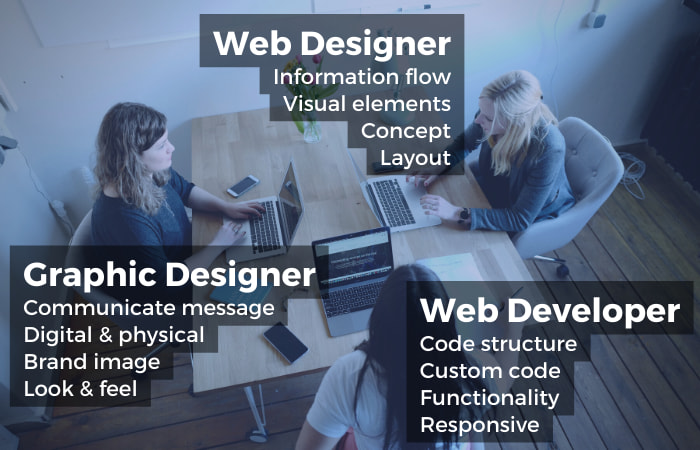 When hiring someone to help build your website, be sure to match the skills they advertise with the requirements and focus you need, either:
Front-end user experience
Back-end code functionality, or
Visual look and feel
Web Designers focus on the user experience and designing the visual look and feel of your website. They will organise content and images in a way that tells your story and will design the final user interface. As well as help you with colour, typography and layout choices that match your business brand.
Web Developers are similar to web designers, but they are more concerned with the coding side of the website. They build the website's core structure using appropriate coding languages. In doing so, they bring to life the functionality that you envision for your website.
Graphic Designers deal primarily with visual design elements such as colour theory, typography, visual hierarchy, page layout and your business branding. They may use these skills to design brochures, logos or posters or they may contribute to the design of your website imagery.
Where do I find a good website designer or developer?
The truth is, the really good designers and developers are always so in demand that they will almost never seek out work via a job posting. Therefore, if you want to hire them, you will need to seek them out directly. Find websites you like; ask around for recommendations; find designers who advertise their work in website footer links.
Otherwise you'll have to search for candidates online. Look on platforms such as:
If being local is an important criteria, then do a local Google search. But before hiring a service provider, make sure to review their portfolios or speak to their previous clients.
How to write an effective web design job post?
It is important to take some time to plan out your job post. You need to be precise when describing the website deliverables. You might find it easier to communicate your vision to your service provider if you present them with a vision board or some examples of the look and feel that you want for your brand. You can also provide them with website copy, images, graphics and a sitemap.
But the most important thing is to be very clear about the primary objective of your website – What customers are you targeting? What exactly are you advertising? What actions do you want your website visitors to take?
How much does it cost to hire a web designer?
Costs can vary significantly – depending on the complexity of your project and the location of the designer you hire. For a very simple website, you might be able to get something for a few hundred dollars. At the other end of the spectrum, complex websites can cost tens of thousands of dollars.
Rates can also vary between geographic locations. For example, designers that are based in countries like Australia, the USA or the UK tend to be more expensive than designers based in India, the Philippines or Eastern Europe. However, there can be cultural differences and language barriers that make it more difficult for you to communicate your vision to designers in these foreign locations.
How long does it take to design and build a website?
Again, this depends on the complexity of your website. If your site is basic, then you might be able to get it done within a couple of weeks. However, for more complicated websites, it may take a couple of months.
Working with Website Designers
Do I need a Web Design Agreement with my designer?
Yes. When designing your website, it is critical you and your designer are on the same page regarding expectations. Don't run the risk of not having a written agreement with your designer. A handshake and verbal agreement are not enough – your online business is too valuable!
There are many different issues that could arise in relation to your web design project, such as:
Your IP is stolen or copied
Your designer doesn't meet the deadline
Your website has missing functionality
You find out that your website has been copied from somewhere else
You disagree on the price that you were meant to be paying for your website
A good Web Design Agreement will set out all of the Terms and Conditions of the relationship and will help you to navigate through these issues. A Website Design Agreement provides a number of benefits, for both the website owner and the service provider, including:
Detailing the outputs or deliverables required
Detailing the project timing and terms of payment
Clarifying expectations between the website owner and service provider
Protecting the ownership of the completed work
Protecting any confidential information that is shared with the service provider
How to get the best out of my website designer?
Before you engage a website designer you should take some time to make sure they are the right fit for you. You may do this by reviewing their portfolio, speaking to their former clients and speaking with them. As with any service providers, different website designers will have different areas of expertise. If you want to get the best results from your website designer, you should make sure that you are hiring them for a project that actually fits their skillset.
Once you have engaged a website designer, planning and communication will be key to getting the best results. The designer can only work with the information you provide to them. Take the time beforehand to think really carefully about exactly how you want the website to work. What happens if a user clicks on this button? Where do they land if they click backwards from this page? What error message will show up if they enter the wrong information in this box?
You should also spend some time looking at other websites or brands so you can provide examples to your designer. You might have a vision in your head about how you want the site to look and feel, but unless you can show some examples to the designer then you may find it difficult to actually communicate this vision to them.
How do I ensure no disputes about services provided or the project terms?
The best way to minimise misunderstandings and ensure clarity of expectations between both parties is to clearly define the project in a Website Design Agreement. The more detail you provide to the service provider, the more likely it is that your vision will be understood and delivered.
Creative design elements can be particularly tricky to communicate effectively. If you are the website owner, it is best to give as many photos, pictures and examples to the service provider as you can find.
In addition, to ensure that your idea is protected, you should ensure that the service provider knows that this is all part of your idea for your business and forms part of the confidential information that is not to be disclosed to or used for other clients. A good Website Design Agreement will contain clauses that create a legal obligation for the service provider to protect your confidential information.
What happens if there is a disagreement on progress or quality of the work?
Your Website Design Agreement should specify that in the event that progress on the project or the quality of the work is not meeting expectations you may inform the service provider to stop work. The Agreement should confirm that if this happens, you will only be required to pay for the work completed to date and you will own the IP and all work done up to the time the project is terminated.
This does not mean that you can change your mind arbitrarily in order to avoid paying for work that has been provided. You will need to communicate effectively with the service provider if you are not happy with the results to-date. But if, after all of that, the service provider genuinely fails to deliver the work that the agreement requires them to, then you could be forced to terminate the project.
This is what your Website Design Agreement should say – but of course whether or not it actually says this, will depend on the Terms of your specific agreement.
What happens if my website designer and I can't resolve an issue?
A good Web Design Agreement should contain a clause which says that in the event that you and your service provider have a genuine dispute about the quality of the work, and you cannot resolve it directly between yourselves, then both parties will need to submit to an independent, specialist arbitrator who will decide the matter. In this case, both parties would need to abide by whatever the arbitrator determines and pay their own costs.
How to terminate a website design project?
If you have a Web Design Agreement with your service provider then strictly follow the provisions of the Termination clause in that agreement. Pay particular attention to the number of days or weeks notice you must give your service provider. In this way you're most likely to avoid any breach of contract.
If you don't have a written Web Design Agreement with your service provider then discuss the situation with them and mutually decide how best to terminate the project. Be particularly careful if the service provider has invested in materials, subscriptions, plugins or themes specifically for your project or to work with you. You might need to compensate the service provider for any investment they have made.
The Practicalities
Who owns a website design once it is completed?
It depends. You may own it or your service provider (the web designer or web developer) may own it. It will be a question of what was agreed between you and your service provider when the project was initiated and what Terms and Conditions apply to your project.
Under copyright law, when any service provider "creates" some work, they immediately own it. However, depending on the Terms of the agreement between you and the service provider, the work might then be transferred to you.
In some cases, you might be given absolute ownership of the website, meaning that you can do what you like with it. You can sell it, you can modify it, you can hire a different developer to make some changes to it or you can do anything else you like with it – it is your property.
In other cases, you might be given a licence to use the website. This means that the website is still actually owned by the service provider, but you are given a right to use it. Understandably, this is much more restrictive, and most people want to avoid this when they get a website built. Under this sort of arrangement, you might be restricted from selling the website. If you want to modify the website, you might need to pay the service provider to make those modifications. You might be restricted from working on the site yourself or hiring other developers to work on it. You might also be required to pay a regular subscription fee to maintain access to the website.
This matter can be further complicated when the service provider uses some of their own intellectual property in your project. For example, they might have written some unique software which they use for a lot of different client projects. They might be willing to let you use that unique software for your website, without taking ownership of it – so they give you use of it under a licence arrangement. However at the same time they might be willing to give you absolute ownership of all other parts of your website.
Obviously this can be a complicated matter and it is important that you understand exactly what you are going to own at the end of the project. A good Web Design Agreement will make this clear.
If you don't have a written Web Design Agreement with your service provider, ownership of the website design may be ambiguous. The circumstances of the project and the relationship between you and your service provider would have to be interpreted – and in a worst-case-scenario, decided by a court.
If you hired the service provider through a freelance platform, for example Upwork or 99designs, then ownership of the design would be determined by the platform's Terms and Conditions. Under the current Terms and Conditions of both Upwork and 99designs, full ownership of the work is transferred to you once final payment has been made (however both platforms could change these Terms and Conditions at any time).
Ownership of the website is a fundamental consideration and can easily be misunderstood if there is no written agreement. Therefore we recommend that you always have a signed Web Design Agreement with your service provider that clearly spells out ownership of the final work and the associated rights that accompany that ownership.
Who owns any custom code that has been developed?
Again, this will depend on what was agreed between you and your service provider and what Terms and Conditions apply to your relationship. In some cases the code might be given to you absolutely. In other cases, you might be given a licence to use the code, while the service provider retains the actual ownership of the code.
If it is important that you receive ultimate ownership of any custom code so that you have the exclusive right to modify it, re-use it or sell it (as part of your website or online business). You will need to have an agreement that makes this clear.
What should I check once my website is finished?
Take your time to go through every page, button and link on the website to make sure it functions as you expect. Check the following:
Spelling and grammar
Internal and external links
Contact form messages are received
Online purchases or bookings are working
How your website looks and functions on a computer, tablet and mobile phone
How your website looks and functions on different browsers and operating systems
What common mistakes should I avoid when hiring a web designer?
There are many things to look out for when hiring a web designer. Some common mistakes include:
Letting your web designer register your domain name for you
Not ensuring that making future changes to your website is under your control
Being required to pay monthly or annual maintenance fees
Not getting administrator login credentials
Not disabling access to your developer when the contract is complete
Not ensuring that the website is built on a platform that you are able to control (and not a platform that the web designer owns)
Not thinking through the objective of the website (target customer, product or service you are advertising, actions you want your website visitors to take)
Not providing clear guidance to the web designer regarding your desired look and feel, as well as the copy and images that you want included
Using the wrong CMS for your needs (for example, Drupal)
Not making sure that you own the code and any custom plugins
We hope you found this legal guide on how to hire a web designer or developer helpful.