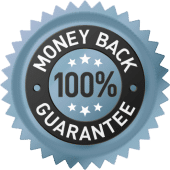 At Legal123 we try and provide the best online legal products possible. We aim for the highest standards of excellence while trying to keep everything simple, easy-to-understand and easy-to-use.
We guarantee that the legal templates you purchase from us will be effective for the circumstances outlined in the product description. We have dedicated a lot of time and effort to ensure our documents, agreements and forms are suitable for the purposes described and our guarantee covers this.
Whilst we cannot provide you with legal advice, we can answer any product suitability questions you have. If you are unsure about your requirements please contact us, as we don't provide refunds for incorrect purchases or change-of-mind.
Technical issues do arise from time to time. It is our experience that most of these issues can be resolved relatively quickly and easily. However, if a technical problem prevents you from using any of our products and we cannot help you resolve it – then we are more than happy to offer you a full refund.
However, if you are seeking a refund because your circumstances have changed or you change your mind – you'll understand, this is not covered by our guarantee.
---
To obtain a refund …
To obtain a refund follow these 3 steps:
Contact us by telephone within 7 days of your purchase
Tell us why you want a refund, and
Give us the opportunity to make it right or correct the problem for you.
There will be no hassle and you will be happily taken care of. We want you to be happy and satisfied with our service and we hope you will tell your friends about us. If you are not happy, we hope you will let us know, so we can fix it!