Very easy to use and great value. Highly recommend it. Elena
A Separation Agreement is the first step to separating
A Separation Agreement states how two former partners have agreed to split their financial assets (and any ongoing financial obligations) once they separate. You don't have to wait the 12 months required for a divorce and can agree your financial separation as soon as you've decided to stop living together. If your separation is amicable you can avoid the Courts arbitrating between you and both move on with your lives quickly.
For married, defacto and 'same sex' couples
Separation Agreements obviously apply to married couples who are divorcing. But they also apply to defacto couples, gay relationships and 'same sex' marriages. The same Separation Agreement form can be used in all cases when the partners are separating.
(Note: This form may not be suitable for same sex couples in WA.)
Quick and easy PDF template
Simply download the PDF template and follow the step-by-step online video instructions:
Fill in your names, addresses, any children and dates you started living together and separated
List your assets, liabilities and how you agree they should be split, lastly
Print the Agreement and get a solicitor to sign the Independent Solicitor Certificate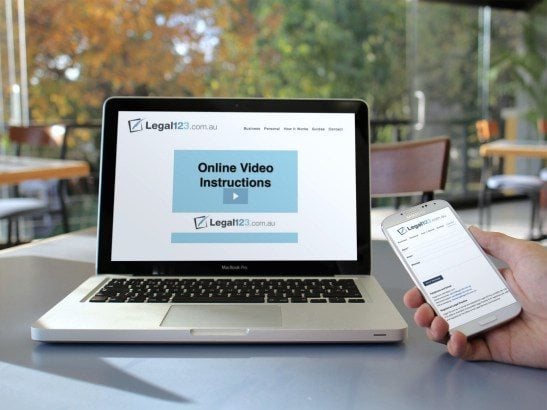 Online video instructions and telephone support
There's a short online video with instructions on how to fill out the form. We also always include a "walk through" video stepping you through and explaining each clause. Plus there's a video covering 10 FAQs about separating and divorcing. And you can always call us if you have any questions.
Is the Separation Agreement form right for me?
My partner and I have only just separated …
Financial separation from your partner can be agreed as soon as you've decided to stop living together. You'll have to wait the required 12 months though before formalising your divorce.
I'm going through an acrimonious breakup …
Even if your relationship with your former partner is difficult you should still try and agree a split of your financial assets. Whatever progress you can make before getting lawyers involved will save you a lot of time and money.
I was in a gay relationship …
Gay relationships and same sex marriages are considered defacto relationships in most Australian States, except WA. So you should sign a financial Separation Agreement with your partner when you separate.
I live in WA and I was in a defacto relationship …
In WA the legislation on recognition of defacto relationships is behind the rest of Australia. For that reason, Separation Agreements may not be considered valid.
More Separation Agreement FAQs
The form includes
Division of assets & liabilities – Simple form to list individual/joint assets and liabilities. Plus agreed split after you separate.
Solicitor's certificate – To be signed by a solicitor to ensure you understand the asset split and you have not been coerced into signing.
Step-by-step instructions – In both online video and written format, with FAQs.
Divorce guide – An easy-to-understand "how to" guide explaining what to do next.
Resources – Links to online resources and contact details for recommended solicitors.

We offer a full money back guarantee if our templates are not suitable for your circumstances or a technical difficulty prevents you from using them. If you have questions about buying online, check out the FAQs.
Separation Agreement Form
What our customers are saying …