Very easy to use and great support provided. Highly recommend using Legal123. Stephen Claringbould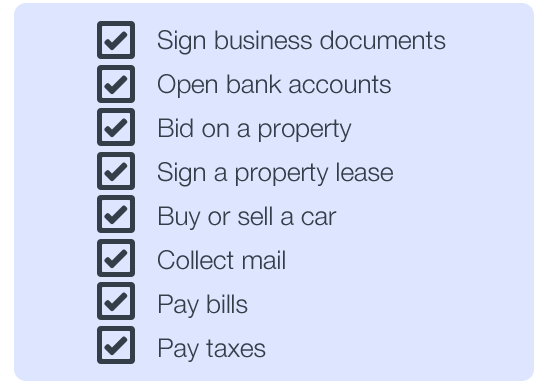 Power of Attorney forms can be used in many situations
Use a Power of Attorney form to give someone (a friend or business colleague) the authority to do something on your behalf. For example you are:
Travelling – Get bills paid, banking done or business documents signed for you
Buying or leasing a property – Have someone bid for you or sign a lease
Buying or selling a car – Have someone buy or sell for you in another State
In hospital or confined to your home – Have a friend collect mail or help manage your affairs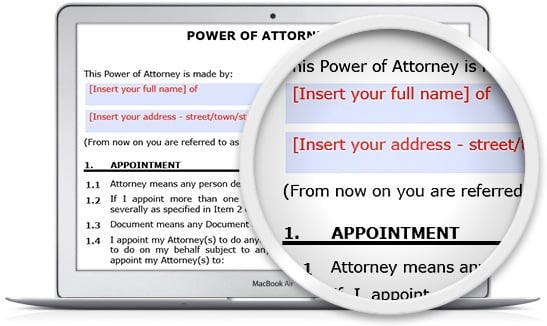 Quick and easy PDF template
Simply download and fill in the PDF template. All you need is some basic information – the name and address of the person you are giving the authority to and a description of the duties to be performed. The template is written in plain English, so it's easy to understand. And you can be done in less than 15 minutes. Plus you can re-use the template again and again.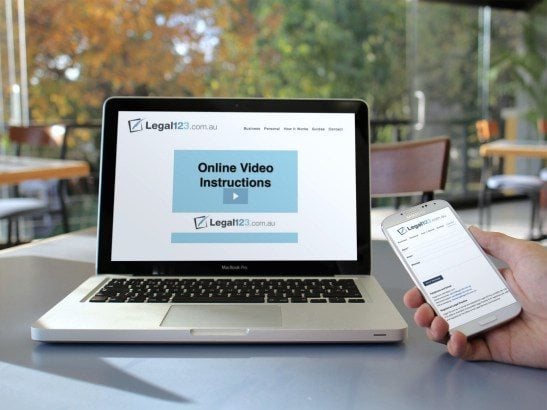 Online video instructions and telephone support
There's a short online video with instructions on how to fill out the form. We also always include a "walk through" video stepping you through and explaining each clause. Plus there's a video covering 5 FAQs about giving your Power of Attorney. And you can always call us if you have any questions.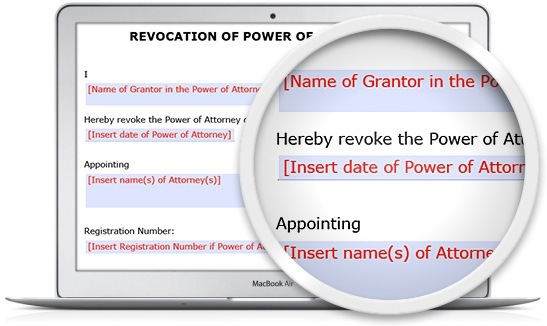 Includes a simple 1-page Revocation Form
Your Power of Attorney will normally expire on a date specified by you or when an act has been completed on your behalf. However, in some cases you might want to formally notify people that the Power of Attorney has been revoked – for example, notify your bank or notify your 'attorney' themselves. This is protection for you and ensures no 'accidental' or fraudulent use of your Power of Attorney.
Is the Power of Attorney form right for me?
I'm going overseas on a gap year …
Then it's a great idea to give a general Power Of Attorney to a family member, so they can take care of any issues that might arise while you're away on your behalf.
I'm going into hospital …
If your stay is more than a couple of days, then use a Power of Attorney to get your mail collected, pay bills, manage your personal affairs, etc.
I'm overseas on a business trip …
If you need something specific transacted while you're away – bidding at an auction, closing a business deal, buying shares, etc. – then give a Power of Attorney to a trusted business colleague or friend.
My ageing parent is losing their mental faculties …
Then you need to consider getting an Enduring Power of Attorney from your parent. More details here.
More Power of Attorney FAQs
The form includes
Cross-border feature – The Power of Attorney may be signed and granted in one State for use in another State (e.g. you get your friend to buy a car for you in another State).
Online videos – Explaining who can act as your 'attorney', if your Power of Attorney needs to be registered and how to end your Power of Attorney.
Indemnity – Clause to protect the 'attorney' who is acting on your behalf.
Start and end date – Allowing the Power of Attorney to expire if the act is not completed.
Revocation form – Simple, 1-page form for ending your Power of Attorney officially.

We offer a full money back guarantee if our templates are not suitable for your circumstances or a technical difficulty prevents you from using them. If you have questions about buying online, check out the FAQs.
Power of Attorney Form
What our customers are saying …
More Testimonials