The Codicil form was easy to use, exactly what I wanted and very reasonably priced. Thank you Legal123. Roslyn Comyn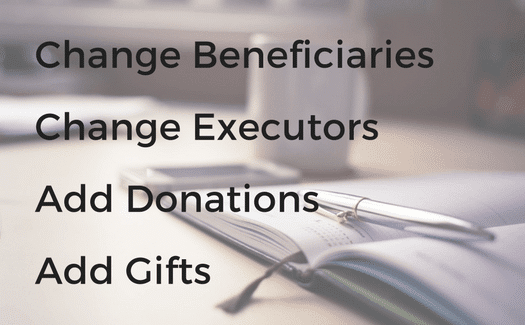 Use a Codicil to make minor changes to your Will
A Codicil is a simple legal form to make minor changes or additions to an existing Will, for example:
Adding or changing your Beneficiaries
Adding or changing your Executors
Adding additional donations or gifts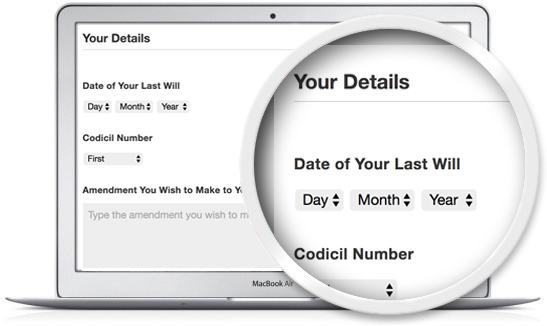 Quick and easy online form
You can literally be done in 5 minutes, just:
Insert the date of your last Will
Specify the change you want to make to your Will
Insert your name and address
Insert the names, addresses and occupations of your 2 witnesses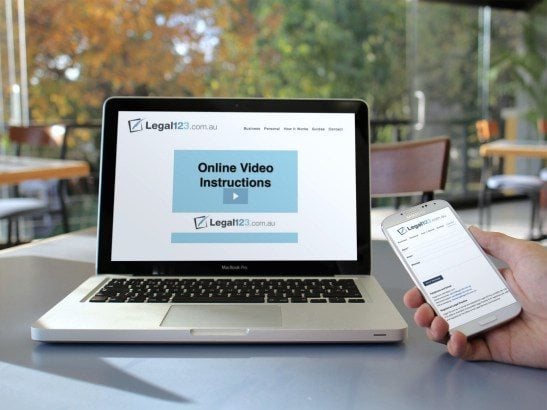 Online video instructions and telephone support
There's a short online video with instructions on how to complete the online form. We step you through the form and explain any legal terms used (like "Executor" and "Beneficiary"). Then we explain how to sign your Codicil and where to store it.
And you can always call us if you have any questions.
Is the Codicil package right for me?
I have already written 2 Codicils …
As a general rule you shouldn't make more than two or three Codicils. If you need to make further changes you should write a completely new Will. This avoids the danger that multiple Codicils could cause confusion about your intentions.
My address has changed. Do I need a Codicil? …
No, there is no need to make a Codicil or re-write your Will if you change your address. An old address can still be used to identify you and your Will. Don't hand-write any change of address on your Will – it's not necessary and it will invalidate your Will!
I want to make major changes to my Will …
Only use a Codicil if you want to make minor changes to your Will. If you have re-thought your Will and want to make major changes, you are much better off
writing a new Will
and "revoking" (or cancelling) your old Will.
Can't I just handwrite changes on my Will? …
No, you should never change your Will by handwriting changes, making notes or striking out any gifts or donations. Never write on your Will – it will invalidate the Will! Use a Codicil to make additions, substitutions, revisions, etc. to your Will.
The Codicil package includes
Codicil form – Simple, online form to generate a 1-page Codicil in PDF format. Use this for making minor changes to your Will after it has been signed and witnessed.
Online video instructions – To walk you through, step-by-step, how to complete the online form and generate your 1-page Codicil in PDF format.

We offer a full money back guarantee if our templates are not suitable for your circumstances or a technical difficulty prevents you from using them. If you have questions about buying online, check out the FAQs.
Australian Codicil Form
What our customers are saying …