Cybersquatting (or Domain Squatting) is the act of buying a domain name associated with someone else's trademark and trying to profit from it.
One of the most famous cases was back in 2000 when the singer Madonna was awarded the domain Madonna.com. The domain had been bought by a New York based web developer who also registered the trademark "Madonna" in Tunisia (the singer owned the trademark "Madonna" in the US). He then used the website to host adult entertainment material.
Ultimately a panel of the WIPO (World Intellectual Property Organisation) ruled that the web developer had intentionally traded upon the fame of Madonna and her trademark for commercial gain – and the website was taken away from him. Rightly so!
In the 'olden days' you just had to avoid the 'Carly Fiorina phenomenon'
Back in the 'olden days' (3 or 4 years ago – we are talking Internet time after all) the advice was always to employ "global defensive domain name registration". That is, register all (or most) of the possible variations of your domain:
example.com and example.com.au
example.co.uk (if you were thinking of doing business in the UK)
example.info, example.net and example.org
example.mobi, example.tv and example.biz
plurals and "typo" domains (yes, there is "Typosquatting" too)
Then re-direct visitors from these associated websites to your "home" domain.
A recent infamous case of this NOT being done was when Carly Fiorina failed to register CarlyFiorina.org (she already owned CarlyFiorina.com). And Carly Fiorina should have known better – she was CEO of HP for 6 years!
When she announced her candidacy for US President in May 2015 a disgruntled ex-employee bought the domain CarlyFiorina.org and posted this content: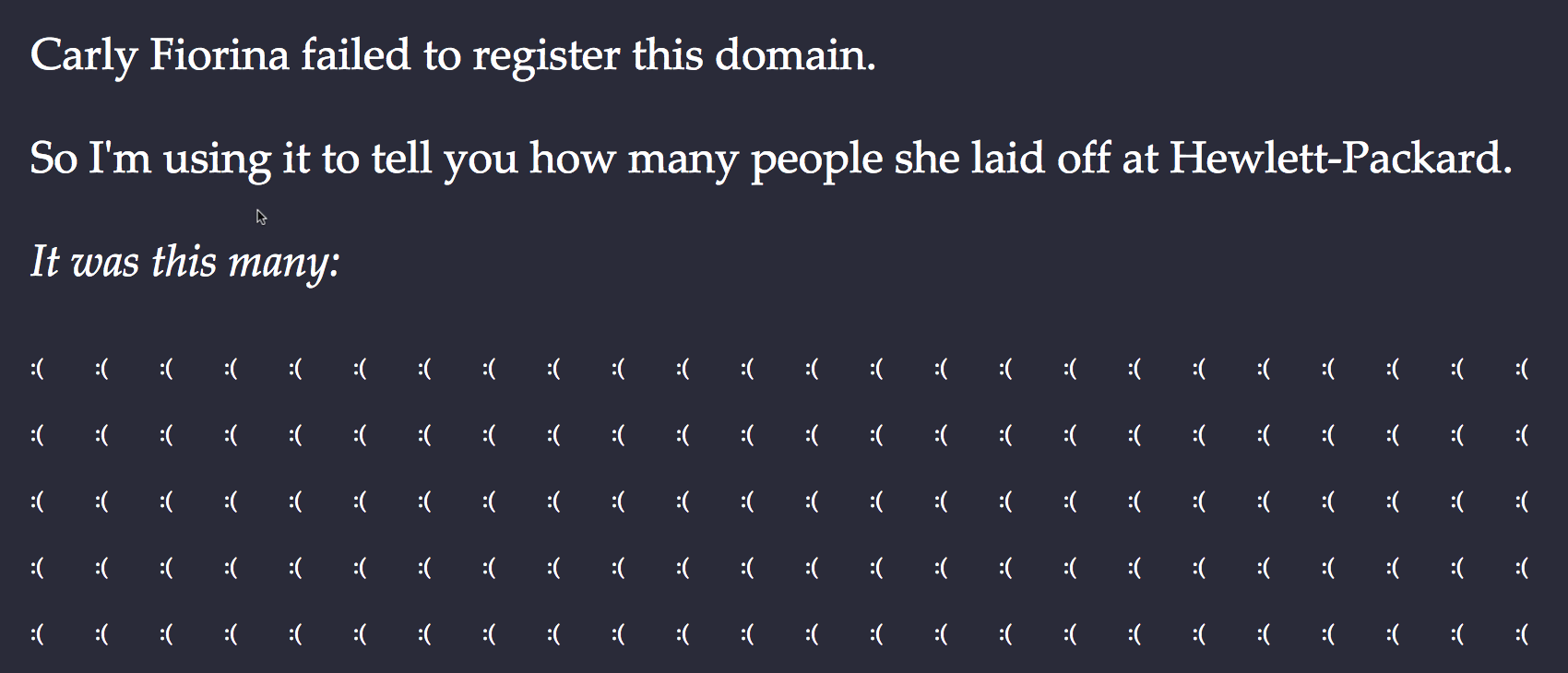 And at the bottom of the page (after 30,000 'frowny' faces) it said this. (Note: I took this screenshot when the website was first published. The bottom of the page has since been edited and the quote removed.)
Embarrassing and, to date, Carly Fiorina has not been able to have the website taken down or "reassigned" to her.
Now you have to evaluate the cost of buying all the 'gTLDs'
The "global defensive domain name registration" strategy worked well for a few years. But then ICANN – how can I put this politely – went nuts!
ICANN is the worldwide organisation that regulates domain names and they are the organisation that gives auDA (the organisation that regulates Australian domain names) their authority. Starting in 2013, ICANN decided to vastly increase the number of domain name "strings" or "generic Top-Level Domains" (gTLDs). So now you can buy:
example.bible
example.soccer
example.cafe
example.golf
example.sale
example.wedding
example.bmw
example.christmas, etc.
There are over 1,300 "strings" now available. And those are just the English language ones. Like I said, nuts!
So now when you go to your local hosting company, like Netregistry, you're presented with an overwhelming domain name list like this: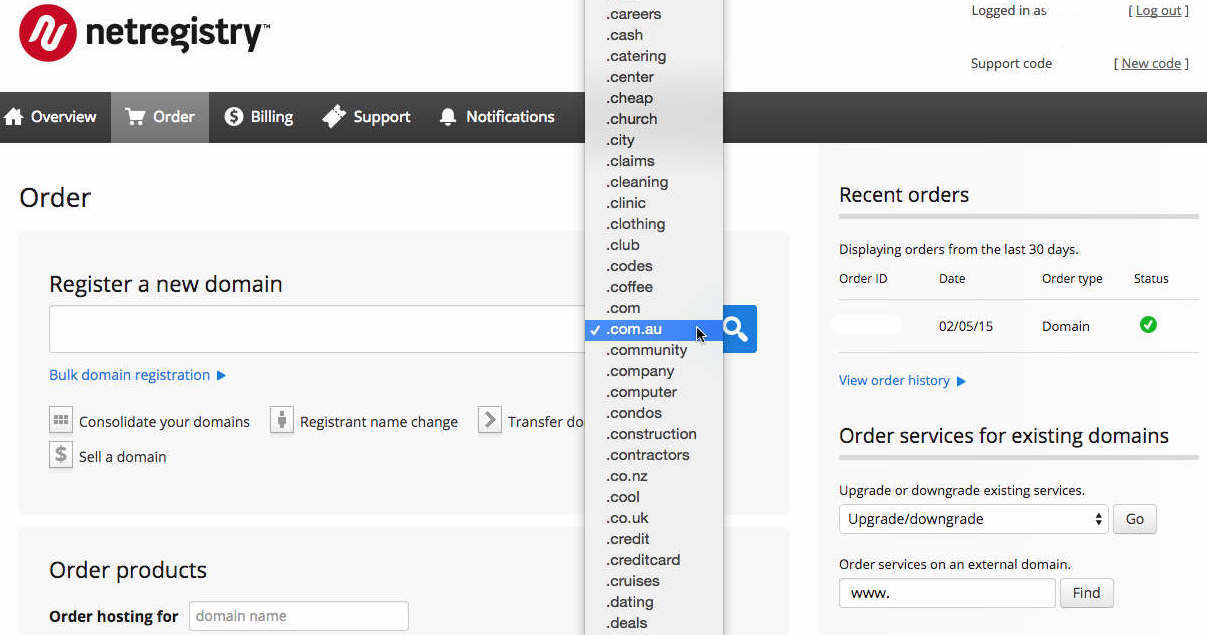 Clearly, protecting your brand name by buying all of the domain name options is now unrealistic. However, we have heard of some multi-national corporations (e.g. pharmaceutical companies) that ARE buying all the variations – just to be safe.
And even risk a shakedown by someone with '.sucks'
It gets worse. ICANN has approved the ".sucks" top-level domain. Now a disgruntled customer can "troll" your business by buying "your-business-name.sucks" and then post whatever they like about you and your business.
If you want to pre-emptively stop this, first you have to register your trademark with ICANN's Trademark Clearinghouse and then buy the ".sucks" domain name for, wait for it, US$2,499 per year!
Admittedly you could wait for the "sunrise" period to lapse and buy the ".sucks" domain as a blocking domain for US$199 per year. But you risk being beaten to the punch – and for a major brand name that's not an option. And at US$199 per year, you're already looking at something that is 20 times more expensive than typical domain registration.
You can read a more detailed discussion of the ".sucks" issue here.
Ladies and gentlemen, this is a shakedown. And at some point a "proper" regulator is going to step in and sort out ICANN.
Luckily in Australia your registered brand name is still relatively safe
Some element of sanity has prevailed in Australia. Australia and Canada are alone in the world, requiring domain name owners to have a "valid entitlement to a domain". For example:
You must have an ABN to own a .com.au or .net.au domain
You must be a non-commercial organisation to own a .org.au or .asn.au, and
You must be an Australian resident to own a .id.au domain
In addition, infringements and disputes are dealt with quite swiftly.
However, to win your case your business name (and probably logo and tagline) needs to be registered with IP Australia. A vital business step we have recommended before, here and here. And while you're at it, make sure to register all your social media accounts. "Social media squatting" is a thing too!
You need to protect your business name, logo or app by Trademarking it. Our Trademarking service, plus years of experience, makes it easy for you: